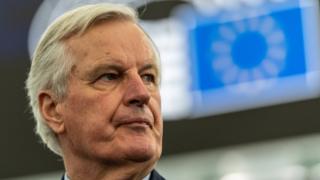 Image copyright EPA Image caption Michel Barnier is the EU's chief negotiator for Brexit
The UK cannot have the same trade deal with the EU as Canada, according to the bloc's chief negotiator.
Michel Barnier said the EU was ready to offer an "ambitious partnership" with the UK post-Brexit, but its "particular proximity" meant it would be different.
It comes after the UK's chief negotiator, David Frost, made a speech in Brussels calling for a "Canada-Free Trade Agreement-type relationship".
The two sides are due to start negotiations next month.
The UK left the EU on 31 January and is now in a transition period - following the majority of the bloc's rules - while a post-Brexit trade deal is hammered out.
Prime Minister Boris Johnson has put a deadline of 31 December on agreeing a plan, saying he will not extend the transition period beyond then.
Brexit negotiator: UK must be able to set own laws
What does the UK sell to the rest of the world?
What is a 'Canada-style' trade deal?
On his first speech about the trade deal since his general election win, Mr Johnson said he wanted to pursue a model similar to that of Canada's, which took seven years to negotiate.
Under the agreement, import tariffs on most goods have been eliminated between the two countries, though there are still customs and VAT checks.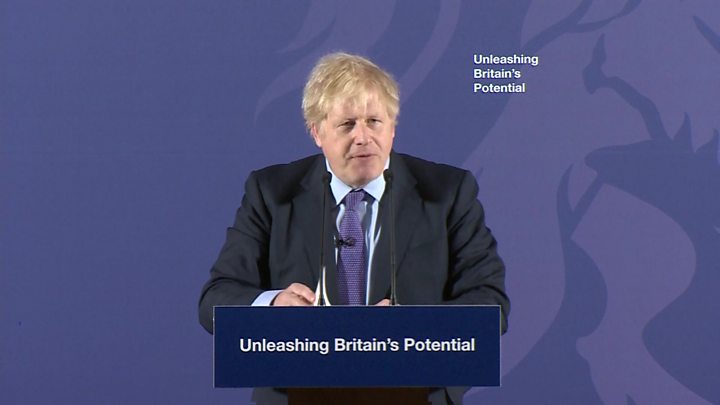 Media playback is unsupported on your device
Media captionPM: We want a Canada-style deal with the EU
But speaking to reporters as he arrived at the European Parliament, Mr Barnier cast doubt on the possibility.
"We remain ready to offer the UK an ambitious partnership," he said.
"A trade agreement that includes in particular fishing and includes a level playing field, with a country that has a very particular proximity - a unique territorial and economic closeness - which is why it can't be compared to Canada or South Korea or Japan."
Mr Barnier said the EU remained "ready to work very quickly with the UK" on the basis of the agreement with Mr Johnson ahead of Brexit, adding: "We remain ready to propose this partnership if the UK wants it."
This is all about what's known as the level playing field.
The UK and the EU will become economic competitors, as well as partners, and level playing field rules are about how fair that competition is going to be.
Almost all trade agreements include them to some degree, but the EU is demanding particularly strict rules because the UK is a major economy right on its doorstep - therefore a bigger potential competitor than a country like Canada.
The EU wants a common set of rules on things like workers' rights, the environmental regulations that businesses have to follow, and, in particular, state aid (or support, including subsidies) for business.
It says it will refuse to give British companies tariff-free access to its single market if those companies also have the ability to undercut their rivals based in the EU.
But the British response, as articulated by David Frost on Thursday, is that the freedom to diverge from EU rules is the whole point of Brexit.
We're going to have high standards, the UK insists, but they won't be your standards.
The EU says a promise isn't good enough, and that's the argument we're going to see playing out over the coming months.
Speaking in Brussels on Thursday, Mr Frost said the UK "must have the ability to set laws that suit us" and not be subject to rulings from European courts.
He reiterated Mr Johnson's desire for a Canada-type agreement and said if it could not be agreed, the UK would trade on the basic international terms it currently follows with Australia.
Mr Frost said the UK will set out more details of its vision for the future relationship with the EU next week.
Watch Brazilian carnivals live, discuss the next world conflict in the video chat or just enjoy fresh videos with funny cat talking - with Ulive.news you are at the center of any event! Ask a streamer to show what is happening from a different angle, to ask a question to eyewitnesses or to pay attention to an important detail. We will translate your message into 64 languages ​​so that you can easily understand each other.