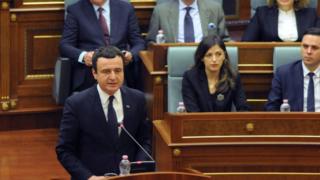 Image copyright Reuters Image caption Prime Minister Albin Kurti has been at odds with his coalition partners
The government of Kosovo has collapsed after a vote of no confidence in Prime Minister Albin Kurti was backed by a majority of MPs.
The vote was brought by a junior coalition partner, on the pretext that Mr Kurti had broken an agreement by sacking the interior minister without consultation.
It comes only two months after the government was sworn in.
Mr Kurti's supporters have condemned the move as a bid to subvert democracy.
Who will govern Kosovo now?
It is not clear how the political impasse will be resolved, as elections cannot be held because of the coronavirus pandemic.
Doctors have warned that without clear direction, the disease could overwhelm Kosovo's underfunded health system.
The Balkan country has at least 70 confirmed cases and one death from Covid-19 - the disease caused by the coronavirus.
Correspondents say the political crisis has frustrated citizens who want the country's leaders to focus on measures combating the spread of the virus.
LIVE UPDATES: Virus surges in US
A SIMPLE GUIDE: What are the symptoms?
AVOIDING CONTACT: Should I self-isolate?
STRESS: How to protect your mental health
VIDEO: The 20-second hand wash
With street protests banned because of a lockdown, residents in the capital Pristina have been banging pots and pans from their balconies to vent their frustration at the squabbling.
One protester who managed to circumvent security outside parliament on Wednesday raised a banned at the entrance that read: "The most dangerous pandemic in Kosovo is politics. Shame!"
The vote of no confidence was initiated by the junior partner in Mr Kurti's coalition, the centre-right LDK (Democratic League) party.
The LDK has been at loggerheads with Mr Kurti for several weeks, but the final straw came when the prime minister sacked Interior Minister Agim Veliu, a LDK member. Mr Veliu had supported calls by President Hashim Thaci for a state of emergency to combat the coronavirus. Mr Kurti insisted such a move was not justified.
Kosovo hits Serbia with 100% trade tariffs
Opposition parties claim election win
More than 80 MPs in the 120-member assembly backed the vote after nearly 12 hours of debate.
Analysts say it is unlikely that Mr Kurti's party will try to form a new government.
Last October's general election was the fourth since Kosovo declared independence from Serbia in 2008.
Serbia does not recognise the country and, with Russian support, has blocked it from becoming a member of the UN and other international bodies.
Analysis: A lost opportunity for a new start
By Guy De Launey, BBC News Balkans Correspondent
Few people in Kosovo will be able to keep a straight face when they attribute the demise of Albin Kurti's government to the coronavirus crisis. Some may smirk, but many will grimace in frustration at a lost opportunity for a fresh start in Pristina.
Mr Kurti is a committed Albanian nationalist. But the main reason his Vetevendosje party won the most votes in last October's parliamentary election was disenchantment with a political establishment which has left Kosovo in limbo.
The war heroes of the Kosovo Liberation Army have dominated governments since the 2008 unilateral declaration of independence from Serbia. But they have failed to deliver prosperity. The most recent report by the European Commission lamented that "corruption is widespread".
People hoped that Mr Kurti would change that. And Vetevendosje's record at municipal level in Pristina stoked their optimism.
Such voters will see the demise of Mr Kurti's government as a stitch-up orchestrated by an old guard uniting to protect their mutual interests. They are unlikely to be forgiving when they get their next opportunity at the ballot box.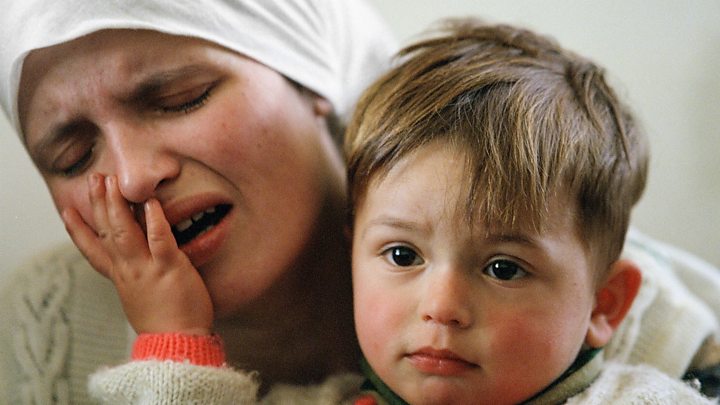 Media playback is unsupported on your device
Media captionThe conflict that won't go away: BBC correspondents explain the Kosovo war two decades on
Watch Brazilian carnivals live, discuss the next world conflict in the video chat or just enjoy fresh videos with funny cat talking - with Ulive.news you are at the center of any event! Ask a streamer to show what is happening from a different angle, to ask a question to eyewitnesses or to pay attention to an important detail. We will translate your message into 64 languages ​​so that you can easily understand each other.