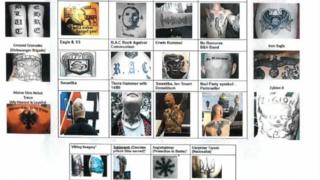 The Ukrainian embassy has demanded the country's coat of arms be removed from a UK police counter-extremism guide.
It has called for "official apologies".
On Friday, the Guardian revealed the guide, issued to medical staff and teachers as part of the Prevent scheme, named environmental groups Greenpeace and Extinction Rebellion.
On Sunday, Ukrainian social-media users noticed the coat of arms next to a Nazi swastika on a page of "symbols commonly associated with white supremacy".
The coat-of-arms, a "tryzub" [trident] symbol, usually in the blue and yellow of Ukraine's flag, appears on Ukrainian passports and the president's flag.
However, a three-fingered salute mimicking the trident has also become the symbol of Ukraine's far-right nationalist Svoboda party.
And some of its members are considered by many to be anti-Semitic, xenophobic and homophobic.
The guide, issued in June 2019, is designed to brief public-sector workers on how to spot signs of UK extremism.
And it urges them to report to police "any concerns identified via this document".
Metropolitan Police Deputy Assistance Commissioner Dean Haydon told BBC News the visual aid had been produced to help police "identify and understand signs and symbols" but many groups listed in the guide "are not of counterterrorism interest".
You might also be interested in:
Watch Brazilian carnivals live, discuss the next world conflict in the video chat or just enjoy fresh videos with funny cat talking - with Ulive.news you are at the center of any event! Ask a streamer to show what is happening from a different angle, to ask a question to eyewitnesses or to pay attention to an important detail. We will translate your message into 64 languages ​​so that you can easily understand each other.